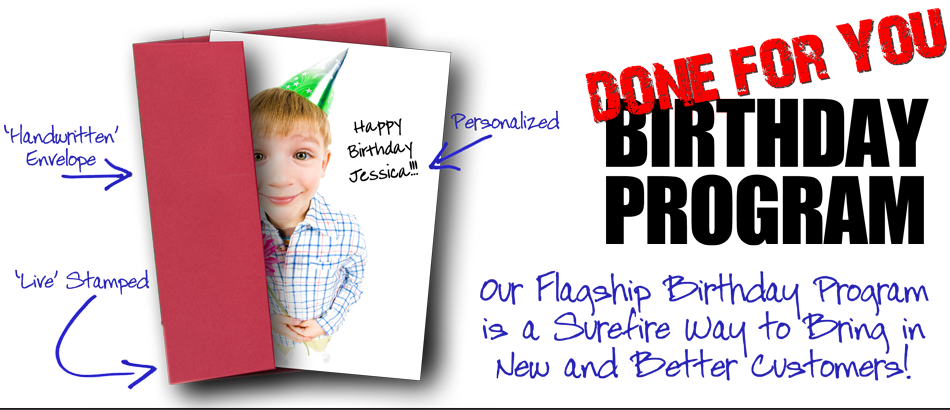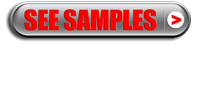 Acquisition at it's finest. Our turnkey birthday marketing program is the PERFECT way to bring in the IDEAL new customer, bring back your FAVORITE customers, and even ask for REFERRALS.  The best part?  It's all Done For You – we pick your brain to get the program rolling, and then the NCN minions make the magic happen month after month… bringing you business and boosting your cash flow!
Who Does the Program Target?
New Prospects: Yes, we can find the folks celebrating birthdays in your area every month.
In fact, we can even clone your top 20% of customers, and target similar people, to make sure we are only grabbing the best of the best.
Your Best Customers:  Remind your customers that you care!
Potential Referrals:  Follow up a birthday card to your current customers with a letter asking for referrals.
Lost Customers:  What better way to remind someone who hasn't been to see you in a while that they matter to you?
What Do You Mean, 'Done For You'?
One of our favorite phrases at NCN is, 'Set It and Forget It.'  Once we work with you to determine what your best prospect (or current customer) looks like and the perfect 'gift' (special offer), we customize your mailer with your info, pictures, and all around awesome stuff about YOU.  Then we handle the rest – every month!  You don't have to do a thing except take good care of the business walking through your door as a result.  And by the by… NO CONTRACTS.  Keep the program rolling as long as you're getting great results – and take a break any time.  (We'll only cry a little.)
Why Birthdays?
It's simple:  people love getting birthday cards and gifts!  Our birthday program includes both – and even adds a personal touch with the recipient's name.
What Do I Do To Get Started?
It's super-simple… and pretty painless.  We promise!  Just fill out the 'Send Me Info' section below, and we'll contact you asap.  No stalking or showing up at your door – honest! – just an email or a phone call to get you on the road to more cash.