Whether you're a brand new agent or a seasoned veteran, you're ALWAYS looking for ways to boost your sales.  We hear you.  We've created an entire library of 'Done-For-You' direct mail campaigns specifically for the insurance industry. Take a look at our best sellers below – getting started is as easy as a phone call or a few clicks.  Need something that you don't see here?   One call to the magic marketing elves (aka Shannon & Kathy), and we'll make it happen!

Programs for Insurance Agents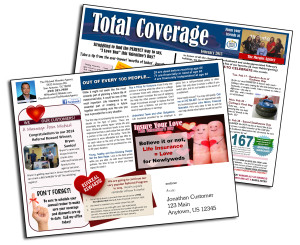 The 'Big Daddy'

Touch your customers every month with this 9″x12″ rockstar, guaranteed-to-stand-out postcard.  The content is ALL Done-For-You, with fun, relevant articles & a personal touch.  You just provide a brief monthly message & testimonial… and with no set-up or monthly fees, it's an all-around winner!  
(Click here to check it out!)

ACES Program
Our ACES Program touches your customers every month and reminds them how important this survey is to you.  With 4 different quarterly postcards, email templates, voice broadcast scripts and flyers, we can help you cash in on the bonus you deserve.  Click here to sign up today!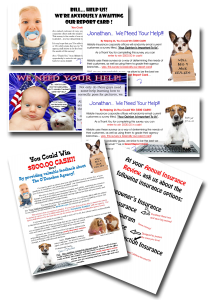 Save the Date
(Red Zone & Annuity Seminars)
Scheduling a Red Zone or Annuity Client Appreciation Event?  Just send us your client list and the details, and we'll handle the rest.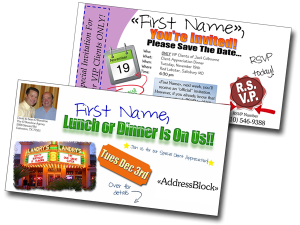 Claims & Annual Review
Customized with your agency photo & information and shipped to your office, you can send these 'fill in the blank' cards to your clients as needed.
Didn't see what you're looking for?  Click here and fill out a quick form (we promise, we won't ask for your blood type or firstborn child), and we'll email you some samples pronto!  Here are some other specialty mailers we have available:
We've Moved!
New Book of Business
Long Term Care
Lost Clients
Life Insurance
Annuity Mailer
Sewer Back-Up
Manufactured Homes
Charity Events
New Client Generation
Birthday Mailers
Holiday Mailers (Thanksgiving, Memorial & Vets Day, Tax Time) 
---